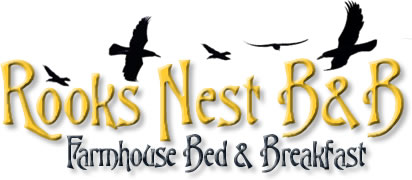 Access Statement for Rooks Nest Bed & Breakfast
Introduction
We aim to cater for the needs of all visitors to our home based 2 bedroom, bed and breakfast. The following statement is a summary of our provision. If you have any specific questions, please feel free to contact us, and we will endeavour to help.
Pre-Arrival
The main train station is in the town of Stafford, and is about 15 minutes away by car.
There is a bus service, which is available in the village of Weston, about 1 mile away.
We have a website, which has photographs of the bedrooms, ensuite facilities, and gardens.
Special dietary requirements can usually be catered for, please discuss them with us, when you make your reservation.
You can contact us by telephone or email (details below).
Arrival & Car Parking Facilities
Entrance off main A518, onto the farm drive. The car parking area is within 5m of the entrance.
There is ample free car parking on the driveway at the front of the premises.
We can assist guests with their luggage.
The entrance is accessed directly from the parking area.
Main Entrance Hall & Reception Area
The front door is approached up 2 shallow steps, and the door is 29" wide.
The hall and reception area is level, covered with wood effect flooring.
The carpeted, cottage width staircase to the bedrooms is situated to the left, and the breakfast room door is to the right.
Public Areas – Hall, Stairs, Landing, corridors, breakfast room etc
The cottage width staircase is accessed from the entrance hall, the first 4 steps are on a half turn, and there are another 9 steps to the first floor landing area, outside the bedrooms.
Corridors are lit with low energy lamps, extra lighting is available.
Bedrooms are secure, each having an individual lock and key.
The breakfast room has a short pile carpet, a seating area with books and games for guests to use.
Assistance can be accessed by ringing an internal door bell, or contacting us by mobile phone on 07966 732953.
Outdoor Facilities
The public footpath network can be accessed (by prior arrangement, when safe to do so) using farm tracks.
Grounds and Gardens
There is a large lawn, with seating facilities adjacent to the car park.
Additional Information
In the event that evacuation is required, a loud alarm will sound. Guests with special needs should notify the proprietor when booking in.
Should there be a power failure, emergency lighting will be activated in the bedrooms and stairway/hallway.
There is a small fridge in the guest breakfast room, which can be used to store medication and special dietary foods, please discuss requirements when booking.
In the reception area there is a leaflet rack, which contains information on the surrounding area and local attractions.
A landline can be made available by arrangement (a charge will be made).
This is a non-smoking establishment, if guests need to smoke, an ashtray can be made available for use in the garden.
Future Plans
We have an ongoing decorating and property/garden improvement plan.
Suggestions from our guests are always welcome.
Contact Details
Rooks Nest B & B
Rooks Nest Farm
Weston Bank
Stafford ST18 0BA
Tel. 01889 270624 / 07966 732953
email. info@rooksnest.co.uk
Website. www.rooksnest.co.uk
We welcome your feedback to help us continually improve,
if you have any comments please contact us by telephone or email.